StompBoxTrio
Saturday, July 22 @ 7:30 pm
2023 Covid Protocols
There is an engaging and almost mesmerizing, acoustic soul music that lays low, allowing and calling on each member of the trio to supply and sustain an elemental sincerity.

Jim O'Donnell, Music Review
Evelyn Harris — vocals & percussion
John Cabán — dobro, vocals & stompbox
Paul Kochanski — upright & electric bass, vocals & foot tambourine
Evelyn and John came together in June of 2017 for a special tribute concert for a beloved longtime friend Art Steele, sound man extraordinaire in the western Mass community, while also traveling around the world as sound-man, production, and road manager for Sweet Honey In The Rock for over 40 years, where he and Evelyn first met. Not only did Art provide world-class sound for local musicians, theatre productions, political rallies, church services, and festivals, he also designed and built state-of-the-art speakers, microphones, and soundboards specific to the many events he worked. *He even owned a second house across the street from his home, called the "warehouse," that was stocked to the rafters with his many creations. He was also an accomplished blues guitarist and singer who performed all over the western Massachusetts area. After the sold-out performance playing Art's chosen tunes and repertoire, we discovered a mutual creative muse to continue working together which came to fruition that Fall for a one-off gig…
Evelyn Harris
Evelyn Harris has been a force on the Western Mass / Pioneer Valley music scene for many, many years, though she hails from Richmond, Virginia, where her experiences singing in church fueled her passion for exploring all other genres as well. Classically trained at Howard University, Evelyn was soon supporting herself by working in the DC jazz community, mentored by Hilton Felton and Donald Byrd. Harris's musical style and her later ensemble collaborations reflect the pull of so many talented musicians playing in the DC area, including Sweet Honey In The Rock. In its infancy, Evelyn found her place and developed as a composer, arranger, and lead singer with the group for 18 years, performing with them for the first time in 1974. Evelyn Harris is a powerhouse vocalist, who creates stirring interpretations of every song she touches.
John Cabán
Guitarist, composer, and producer John Cabán has roots that run deep in the blues, funk, r&b, ambient, experimental, and world music that has helped inspire StompBoxTrio. His distinctive dobro guitar style brings a rich, lyrical, and at times, haunting dynamic to the music. The Western Mass native spent 20+ years living in Brooklyn, New York where he played, toured, and/or recorded with many diverse artists from all over the globe including Richard Bona, KJ Denhert, Alana Davis, Art Neville, Eddie Kramer, Bo Diddley (RIP), Kenny Kirkland (RIP), Gianna Nannini, Alidu, Vast Ed Vadas (RIP), John Cruz, Gloria Gaynor, his electric project Galvanizer and many others.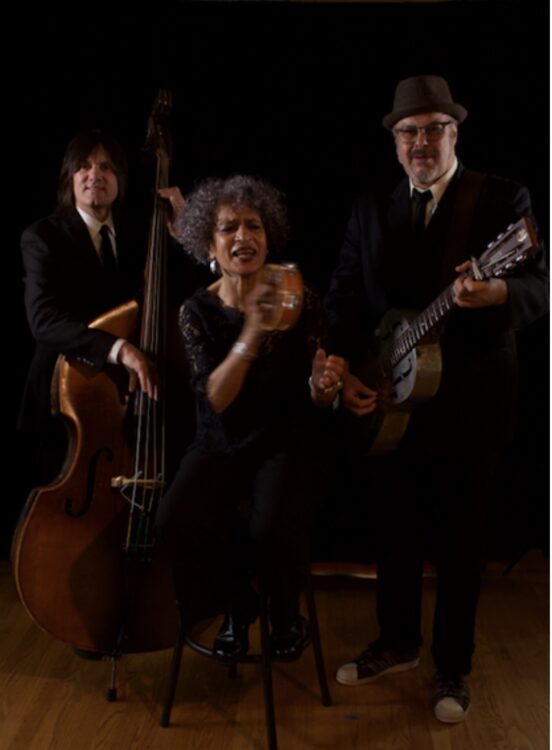 Paul Kochanski
Paul Kochanski is a two-time Grammy nominee who's always in service to the song, the moment, and the groove with a lifetime in American roots music from high school bar bands in Michigan's Upper Peninsula to study at Boston's Berklee College of Music to stages at the Country Music Hall of Fame and the Fuji Rock Festival. Seen/heard with songwriters Lori McKenna and "Big" Al Anderson, Americana pioneers the Swinging Steaks and blues legend Ronnie Earl, Paul is thrilled to join StompBoxTrio in their sonic exploration of soulful American music forms.
Tickets
Adults: $15 | 13-17: $10 | 0-12: free
Genre
blues, rock & soul