Quabbin Valley Pro Musica
Sunday, January 26 @ 3:00 pm
*at the Orange Central Congregational Church
The Central Congregational Church is located at 93 South Main Street in Orange.
Geoffrey Hudson — Music Director
Judy Johnson — Collaborative Pianist
Quabbin Valley Pro Musica — Chorus
QVPM's Winter Concert will take place at the Orange Central Congregational Church at 93 South Main Street, Orange.
Concert Notes
Déja vu
Quabbin Valley Pro Musica's current program, "Déja vu", explores different composers setting the same words to music. By juxtaposing two settings of the same words, the composers' choices are brought into relief. The audience experiences something both familiar (the words) and different (the music). The selected composers span more than 450 years, from the renaissance master Palestrina to living composers Carolyn Brown Senier (of Orange) and Geoffrey Hudson (of Pelham).
At the heart of the program are three works by Felix Mendelssohn, notable for their rich timbres and carefully crafted counterpoint. Mendelssohn's setting of "Nunc dimittis" is paired with Henry Purcell's setting of the same words, composed 150 years earlier. Mendelssohn's "Lord, How Long Wilt Thou Forget Me" is paired with a Latin setting of the same psalm by the great French composer Marc-Antoine Charpentier. Finally, Mendelssohn's "As the Hart Pants", is mirrored by one of Palestrina's most stunning motets, "Sicut cervus".
Carolyn Brown Senier's "Song of Abraham" was premiered by Quabbin Valley Pro Musica in 2004. It shares words with the Italian Jewish renaissance composer Salamone Rossi's "Barechu". Geoffrey Hudson's "The Question", commissioned and premiered earlier this year by the Hampshire Young People's Chorus, rounds out the program.
Quabbin Valley Pro Musica
QVPM is the resident chorus of 1794 Meetinghouse. It is led by Music Director Geoff Hudson and is comprised of singers from the North Quabbin and Pioneer Valley regions. The singers are gifted amateurs who perform quality choral music from many genres. QVPM meets on Monday nights at the Central Congregational Church of New Salem, and typically perform concerts in January and June. For more information, please email Harry Haldt or call him at (978) 249-4691.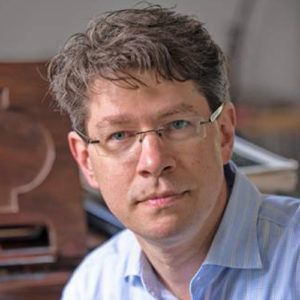 Geoff Hudson
A composer as well as conductor, Hudson's compositions have been performed across the US and in Europe. His most recent work, The Quartet Project, is a six-volume collection of graduated string quartets modeled on Béla Bartók's Mikrokosmos. More than 200 quartets worldwide have performed selections from The Quartet Project. The full collection was published in 2016 accompanied by a CD featuring performances by the Chiara, Parker, Miró, Brooklyn Rider, Jupiter, Borromeo, and Apple Hill quartets. Other recent commissions include an opera for young audiences, The Bug Opera, a concerto for viola and chamber ensemble, First Among Equals, and numerous choral and chamber works. His work as a composer has been supported by grants from the American Composers Forum, New Music USA, Meet the Composer, the International Music and Art Foundation, the Argosy Foundation, the Alice M. Ditson Fund, and others.
Geoffrey Hudson is in his ninth season as music director of Quabbin Valley Pro Musica; he also directs Pioneer Valley Cappella in Northampton. A composer as well as conductor, his music has been performed across the United States and in Europe. Selections from his Quartet Project have been recorded by leading American ensembles like the Jupiter, Parker, Miró, Brooklyn Rider, and Chiara quartets. In June 2019, the Illuminati Vocal Arts Ensemble premiered his most recent composition, A Passion for the Planet, to a sold-out audience at Sage Hall in Northampton. A resident of Pelham, Hudson has degrees in composition from Oberlin College and the New England Conservatory. His work has been supported by grants from the American Composers Forum, New Music USA, the Argosy Foundation, Meet the Composer, and others.
Judy Johnson
Judy Johnson has been the Collaborative Pianist for the Quabbin Valley Pro Musica since 2011. She has also collaborated with amateur music theater groups, school choirs and shows, church soloists and choirs of all ages, and community choruses in California, Australia and New Hampshire. 
Judy ran an independent piano and voice studio for over twenty-five years, and is a former president of the New Hampshire Music Teachers Association. She has accompanied and directed church choirs in Australia and New Hampshire, and is currently the Music Director at Mission Covenant Church in Orange, MA. Judy was the founding director of the Nashua Choral Ensemble, an ambassador group from the then Nashua Symphony Choral Society (now the Symphony NH Chorus), and led this group for eight years. Judy received a Bachelor of Arts in Music from California State University, Sacramento and did graduate studies at Melbourne University in Australia, UMass Dartmouth, UNH Durham and Westminster Choir College in Princeton, New Jersey.
QVPM History
Atholl Musicale, QVPM's precursor, was created by Mark Wright in 1988. In 1993 it was renamed Quabbin Valley Pro Musica when it became the resident chorus of the newly formed 1794 Meetinghouse, Inc. Because renovations on the historic Meetinghouse were not yet complete, the first concerts were held in the New Salem's Central Congregational Church. The first Music Director was Gail Ares-Laraba; she had conducted the Atholl Musicale and continued with the early QVPM. Mark Wright (now director of the North Quabbin Chamber of Commerce) managed the early choir and produced its concerts, and Lynn Boudreau (current Meetinghouse organization President, and still singing with QVPM) sang with that early choir.
Geoff Hudson was Music Director from September 2001 to June 2007. Charles Heffernan took over from September 2007 to June 2017, and Geoff returned to direct the chorus for a second time in September 2017.
Tickets
Adults: $15 | 13-17: $10 | 0-12: free
Genre
Choral Music