Jenny Burtis
Saturday, August 26 @ 7:30 pm
2023 Covid Protocols
Beautifully Crafted Songs.

Lui Collins
Jenny Burtis — vocals, guitar
John "Klondike" Koehler — electric bass
Geoff Rice — electric guitar
Jenny Burtis
Jenny's acoustic guitar is at the center of her performance, and her songs offer an honest look at life and loss, with an eye toward irony, humor and redemption. She weaves classical music influences into her songwriting, favoring the Romantic tradition, and has been influenced by a variety of singer songwriters including Jane Siberry, Shawn Colvin, and Olivia Chaney. She and her band's performances traverse a variety of emotional landscapes, from the tenderness of a revelation to the downbeat drive of rock n roll.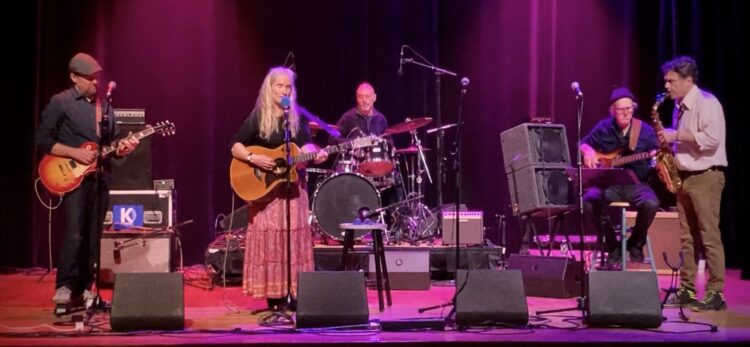 Raised in Vermont, Jenny started out playing classical piano and was bitten by the songwriting bug after college while living in Boston. Inspired by great local radio and the singer songwriters her agency, Circle Productions and Management, represented, including Catie Curtis, Vance Gilbert, Brooks Williams and Bob Franke, she picked up the guitar, joined a songwriting group and attended open mics. She became a psychotherapist in 1998 and moved to the west coast where, along with working at an HIV/AIDS support project, she recorded demos and played bars and listening rooms. She returned to Vermont in 2004, cut her therapy practice down to half time and started a gardening business. She moved to Western Massachusetts in 2020 and spent the "Covid Isolation" period writing new songs informed by the emotional terrain of a psychology career, Taoist spiritual practice, and the vicissitudes of inner life.
Jenny has just finished recording her first album, Woodbird. It includes the band as well as other local musicians including singer songwriter Lui Collins, saxophonist Rick Page, dobro player Charlie Conant, and multi-instrumentalist Dom Lewis. Woodbird will be released in June 2023.
John Koehler
Klon has played electric bass onstage and in the studio with folk singers, power trios and jam bands. He has played at the White House and the Shea Theater and recorded in NYC and Turners Falls. His bass lines provide a strong and steady foundation for the songs delivered.
Geoff Rice
Greg, who brings both atmospheric effects and crisp lead guitar, exercising tasteful restraint, always in service to the song. Geoff offers superb musicianship and an attunement to beauty, highlighting the emotion of Jenny's music.
Tickets
Adults: $15 | 13-17: $10 | 0-12: free
Genre
singer/songwriter