Green Heron
Saturday, September 24 @ 7:30 pm
2022 Summer COVID Protocols
Truly natural performers, Green Heron effortlessly embody the look, sound and style of 'old time' American folk, forging a timelessness in their music that can be hard to find in modern performers.

Home Stage
Betsy Heron — fiddle, banjo, vocals
Scott Heron — guitar, banjo, vocals
The music of Green Heron stretches across the entire folk landscape. Old-time, folk, bluegrass, country, Irish and blues music are all represented as the band brings the back porch to the stage. Featuring Betsy Heron (formerly Green) on fiddle, banjo and vocals, and Scott Heron on guitar, banjo and vocals, the duo has been sharing New England stages together since 2017. The two songwriters weave the contemporary with the traditional and deliver high energy performances.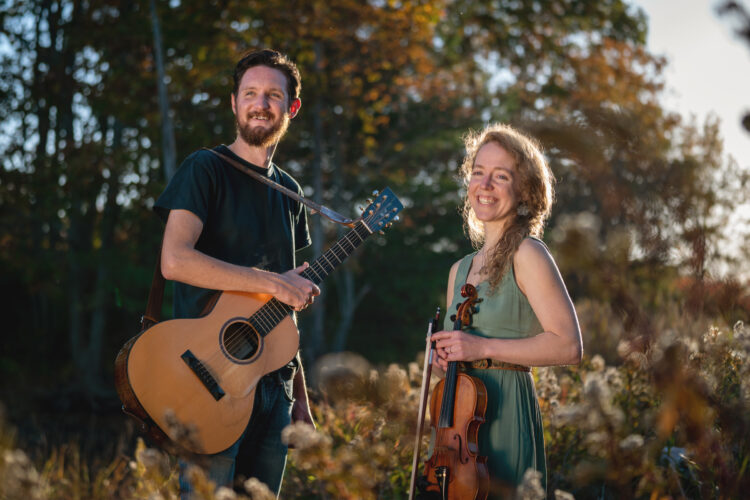 Betsy, brought up playing country music with her family's band in rural Massachusetts, still plays alongside her three sisters in The Green Sisters. Meanwhile, Scott spent several years in various metal bands touring New England and much of the country before discovering folk and bluegrass. Despite their very different backgrounds in music, the pair still draws from their roots when writing and performing and have found a common love for Americana music.
'Folk Heroes' is bluegrass-y bliss. It's a shimmering debut by a youthful pair paving their path of being the next wave of folk heroes … great vocal harmonies, campfire pluckery, and all the reason in the world to keep it in constant rotation as you ease through the day-to-day.

Seacoast Edge
To date, Green Heron has released three albums: Folk Heroes in 2018, New Pair of Shoes in 2019 and Feet on the Floorboards released in 2021. The latter was recorded at their home during the pandemic by Ben Haravitch and Circus Tent Studio.
Green Heron's newest album, Feet on the Floorboards is both refreshingly new and pleasantly antique.

The Monadnocker
The band occasionally performs on stage and records in studio with a variety of acts throughout New England. Betsy and Scott founded the Americana quartet Mama Ain't Dead and released their self-titled debut albumin September 2019. The duo also performs alongside Liam and Mickey Spain as part of The Spain Brothers (formerly of Makem and Spain).
Tickets
Adults: $15 | 13-17: $10 | 12: free
Genre
Old-time, Bluegrass, Country, Irish and Blues
You might also like