Christine Ohlman & Rebel Montez
Saturday, June 4 @ 7:30 pm
2022 Summer COVID Protocols
I've come here tonight to set your souls on fire,

she'll tell an audience. And she will.
Christine Ohlman — vocals, acoustic & electric guitar
Rebel Montez:
Cliff Goodwin — lead guitar
Michael Colbath — bass
Marco Giovino — drums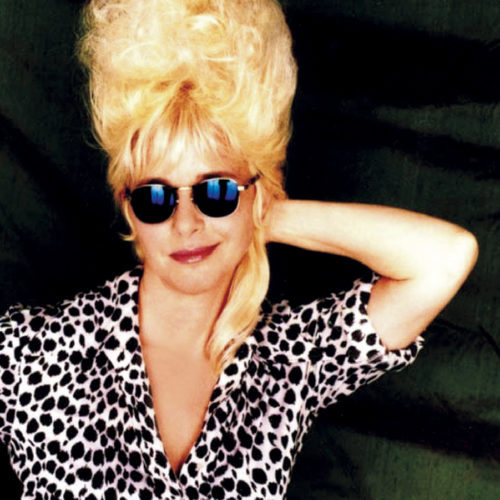 Christine Ohlman
This queen of blue-eyed rock'n soul grew up loving equally the sweetness of a Memphis horn line and the raunch of an electric guitar riff. She's the current, long-time vocalist with NBC's Saturday Night Live Band, and her latest CD, The Deep End, was honored on five national Top Ten lists and features special guests/duet partners Ian Hunter, Dion DiMucci, and Marshall Crenshaw. Ohlman topped the Alternate Root's Readers' Poll as top Americana vocalist, joining other winners Paul Thorn, The Mavericks and Rodney Crowell. Ohlman's legendary voice and stage presence have most recently been featured at the 2019 AMA Conference in Nashville; The PBS series "Music City Roots" with Bonnie Bramlett, Sarah Potenza and the McCrary Sisters; 2016 New Orleans Jazz & Heritage Festival's Tribute To David Bowie; on numerous guest vocal slots on the HBO series "Vinyl" that feature a duet with Elvis Costello; on SNL's 40th and 45th Anniversary telecasts (where she shared the stage with the B-52s); "The Tonight Show with Jimmy Fallon" (guest slot with Black 47); the 2012 Rock and Roll Hall of Fame Induction Concert in Cleveland (filmed by HBO); and the Carnegie Hall tribute to the Rolling Stones; and as a headliner for the WC Handy Festival in Muscle Shoals, AL. Her voice graces Quentin Tarantino's "Once Upon A Time in Hollywood" (in a guest-vocal turn on the Rolling Stones' classic cut "Out of Time").
In 2017, she was inducted into the National Blues Hall of Fame of American Heritage International, and she recently took part in two days of filming in the Boston area with blues greats from around America for "Bonnie Blue" a filmed documentary on the late, great bluesman James Cotton. She appears on Grammy nominee's A Tribute To Howlin' Wolf (with Taj Mahal and Lucinda Williams) and Charlie Musselwhite's One Night In America (with Marty Stuart); sings the theme song for NBC's 30 Rock; worked on a musical with the late Cy Coleman (who compared her sense of timing to Peggy Lee's). A musicologist of note, Ohlman is a cover-story-writing contributor to Elmore Magazine, and worked with Bonnie Raitt, Ry Cooder & others on the Rhythm & Blues Foundation Awards. Ohlman tours relentlessly with her band Rebel Montez, torching clubs up and down the Eastern Seaboard in support of her recordings: Strip, The Hard Way, Radio Queen, Wicked Time, 2008 career retrospective Re-Hive, the aforementioned The Deep End, 2011 concert DVD Live Hive, and 2021's The Grown-Up Thing.
Christine Ohlman doesn't just perform. When she's on a stage, she OWNS it, taking command of it with her soulful singing and stage presence. She's an electrifying talent, a born entertainer. Watching Ohlman blaze away is a visceral musical thrill. Fans of vibrant rock and soul owe it to themselves to catch Ohlman and her band, Rebel Montez, when they appear at the Plantation Club.

Mark J. Cadigan, Worcester Magazine.
Cliff Goodwin, a native son of Worcester, MA, came up with legendary New England rock n'roll gods The American Standard Band, appearing on their self-titled LP. In 1976, he answered the call to become Joe Cocker's lead guitarist, where he stayed until 1988, sharing the stage with Nicky Hopkins and Bobby Keyes; recording Luxury You Can Afford (Asylum), Cocker (Capitol), Live In Central Park (Casablanca), Standing Here, and Live in Montreaux; and cementing his reputation as an musical director par excellence when he assumed that role for Cocker upon joining the band. Along the way, Cliff worked with John Mayall, Steve Miller, and Robert Palmer, appearing on Palmer's Secrets, (and, again famously, on singles "Bad Case Of Loving You" and "Suspicion"), three Billboard Hot 100-charted singles with the New City Rockers, and the million-seller Twisted Christmas with The Bob Rivers Comedy Corporation. His 2018 solo CD, Rhythm & Blues Union, was recorded with an all-star cast and features guest performances by Jon Butcher, James Montgomery, Elliott Tuffin, Michael Lynch and Craig Rawding.
Michael Colbath started out a jazz freak, and in many ways it's still his first love. But from the time he picked up his first bass to the present, his interest in music has been truly global. Mike got his start working out with R'n'B soul groups in Hartford's North End and continued to cut his teeth on the Hartford scene with the Hibachi Brothers, a World Beat band, while at the same time playing with a succession of jazz combos. Known as "The Buddah of the Bass" for his unflappable Zen-trance stage presence, Colbath goes to the well of Duck Dunn, James Jamierson, and John Paul Jones for inspiration. He says, "Playing with Christine allows me to work on music in an original context, which is very gratifying to me as a musician." Michael brings many influences to his playing style and bass lines and a spark that few can match when he straps on his axe.
Marco Giovino is a New England-based drummer/producer; he has toured played and recorded with artists including Deborah Bonham, John Cale, Rodney Crowell, Patty Griffin, Kylie Harris, Malcolm Holcombe, Norah Jones, Robert Plant's Band of Joy, Peter Parcek, GE Smith, Glenn Tilbrook (Squeeze) and is currently the music director for Tom Jones. Marco has made TV appearances on Jimmy Fallon, Craig Ferguson, Jay Leno and John Letterman, and he owns and operates a recording studio in Nashville called Dagotown Recorders. We're excited to have Marco join us this year.
Christine and her gang, perennial favorites and a frequent opening concert, put on an amazing show, and behind the scenes she is one of the best in the business to work with. I can't do justice to all of her credits in this short a space; you should check out the full list on her website. You are in for a real treat. My hat is off to Christine, now and always. And I'm so glad she's come back again to grace our stage.

Brad Foster, Executive Director, 1794 Meetinghouse
Tickets
Adults: $20 | 13-17: $10 | 12: free
Genre
Soulful Roots Rock & Blues